5 Steps to Execute a Performance Evaluation in your Company.
Pepe Villacís - 31 de octubre, 2017
Each member of your team has special skills that if used in the right way can lead you to achieve your goals, discover how to maximize the potential of your sales force with a performance evaluation. In this article you will find some tips to evaluate your team effortlessly and thus always have a constant improvement.
Why evaluate performance?
The purpose of a performance evaluation system is to achieve superior performance in your employees, which is reflected in the results of your company and in the professional satisfaction of each employee. With this system it is possible:
Visualize the progressive performance and the relationship of your company's objectives with the personal objectives of your employees.
Determine the responsibilities and priorities of each employee.
Improve the individual performance of your employees and the productivity of your company.
Provide constructive feedback on what is done well (recognition) and what can be improved (to learn).
Encourage face-to-face communication between your employees and their direct managers.
Steps to design and implement a performance appraisal program.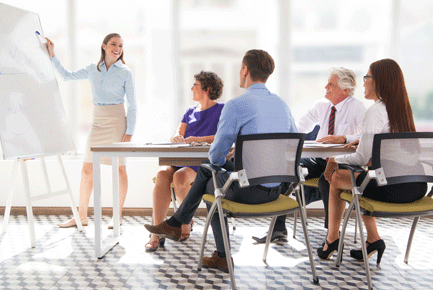 It is recommended that they be held at least once a year, which does not limit the possibility of having quarterly or semiannual follow-up meetings to make adjustments and/or corrections in a timely manner.
1.- Define measurable objectives.
A personal meeting should be held between the manager and each employee directly under his/her charge, to clearly establish the individual objectives to be met by the employee in his/her position, for the initiated period in which the performance evaluation will be carried out.
In this first step, the indicators or ratios to be used and how to calculate them must be established. These objectives must be aligned with your company's strategy and must be specific,
measurable and achievable
by the employee during the performance evaluation process.
2.- Identification of expected behaviors and behaviors.
Due to the somewhat subjective nature of observing and rating behaviors, it must be established and described with each competency and/or behavior. As an example, we show the definition of a competency: internal customer orientation and a detail of the behaviors associated with this competency:
Competence: internal customer orientation.
Demonstrate sensitivity to the needs of the different areas and the work area itself, which may be required in the present or in the future. This is a permanent attitude of taking into account the needs of others.
Internal customer orientation is to be committed to quality by striving for continuous improvement.
Behavioral indicators:
He is proactive to promptly address the doubts of his coworkers, his treatment is very courteous and usually does not show conflicts with his colleagues.
Shows concern for knowing exactly the point of view and needs of others.
Anticipates them by providing solutions to their queries.
Demonstrates interest in serving members of the organization as quickly as possible.
Shares opinions with others to improve their work.
Continually observes their environment to improve their work.
3.- Follow-up.
Team leaders (supervisors, managers, etc.) should permanently monitor the employee's work in order to
generate constructive and constant feedback on their performance
. It is important to establish a tentative schedule (monthly, quarterly, etc.) to formally review the employee's performance. The essential aspect of this phase is the accompaniment, i.e. the support and follow-up that managers give to their employees during the year to ensure that the objectives are achieved.
4.- Evaluation.
The objective of this phase is not simply to judge your own performance, but to review what you have done well, as well as what you can improve, to build a baseline of success and opportunities for improvement, so that your employees can be much more effective in the coming year.
5.- Recognition.
In this process, managers should be taken into account in order to link performance results to salary increases or bonuses, or public awards, among other recognition mechanisms. Tangible or intangible recognition is necessary to positively reinforce the good performance of employees.
Some final considerations.
The objectives must be measurable and easy to understand for all workers, they must also be demanding but achievable to avoid lack of motivation.
The way to evaluate the employee's performance must be clearly known by him/her, he/she must know how and on what he/she will be evaluated.
Do not wait for the end of the evaluation period to review the performance of your workers, promote periodic reviews (every one or two months) so that the worker knows what he/she is doing well (to continue doing it) and what he/she is doing wrong (to correct it).
The rewards chosen should be attractive to the employee and related to his or her needs and requirements, not those of the program designer.
The performance evaluation program must be known and understood by all personnel, especially by those collaborators who manage and/or lead work teams: supervisors, managers, etc. It is appropriate to call a meeting with the team leaders of your company, and together with them review this guide to inform them about the program, as well as to clarify questions and doubts about it.
---
Por Pepe Villacís
Bachelor´s Degree in Accounting and Auditing. Master in Business (obtained in Arizona USA). Personal Coach, certified by CoachVille Spain. Business Coach, Management Coach and Coach of Coaches of ActionCoach Mexico.